Less disturbance. More focus. For you.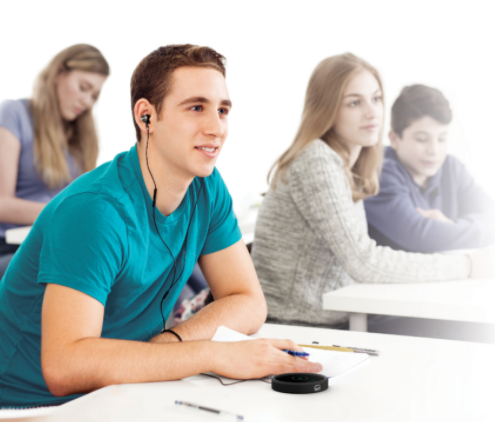 Why SoSee ?
SoSee is the individual solution for hearing what you want in the classroom without being disturbed by noise. The result is a marked improvement in concentration and, thus, improved learning.
The Nuance Hearing Sound Selector is an innovative product, tested in Israel and Denmark. It is available in the UK on request.
In conclusion, the Sound Selector can give you a helping hand to make your day at school easier and leave you some energy at the end of the day for your homework (and leisure time).
In words and video....
If you are a parent, we offer you a powerful educational tool to improve your child's listening skills. In other words, helping your child focus on what is important...
With the SoSee, as a student you can:
improve your learning experience
free cognitive resources
hear the teacher's voice with less effort
be less distracted by ambient noise
The Sound Selector is a ready-to-use powerful solution in the field of educational technology, plug and play.
So easy and intuitive. You See ;-)?
Nous avons essayé l'appareil lors de la réunion, et je dois dire que tout le monde présent a été séduit, enseignant, directrice, psychologue scolaire !
Bénéfices
Le Sound Selector → une technologie audio numérique pour favoriser l'apprentissage
Écoute améliorée
L'élève focalise son attention, sans être perturbé par le bruit ambiant.
4 modes d'écoute
Écouter la ou les voix ciblées, de la ou des directions sélectionnées.
Outil pédagogique
Pour assurer une attention tout entière vers l'enseignant
Son remarquable
Une qualité sonore incroyable - très agréable pour les oreilles.
L'interface du Sound Selector
Charactéristiques clés
Facile à utiliser
Utilisation intuitive avec ses boutons tactiles et barres lumineuses.
Autonomie batterie
L'autonomie de la batterie : 12 heures (recharge : 2 heures).
Le look
Un design épuré - et durable.

Made by Nuance Hearing
Nuance Hearing was founded in 2015 by Yehude and Zohar Zisapel, two pioneering Israeli brothers since the 70s within high-technology, and by Yoni Herzberg, an expert in signal processing with a doctorate in physics.
The vision of Nuance Hearing is to design, develop and market products that help you understand speech, speak effortlessly and focus in noisy environments.
Since 2016 Dorena has contributed to and collaborated with Nuance Hearing and is pleased to offer Nuance Hearing products in France, Great Britain and Denmark.
Our goal: to provide you with the best technology that improves your learning. This applies to all students - and especially if you have ADHD, are autistic or have other challenges that affect your attention or concentration.
Click here for www.nuancehear.com.